Vinnies CEO Sleepout 2018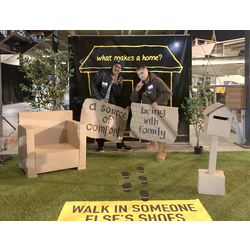 Breaking the Cycle of Homelessness
In Western Australia over 9,000 people experience homelessness on any given night.[1] On Thursday 21st of June, two of our own Galvin Engineering business leaders experienced this cold, hard hitting fact for themselves.
Galvin Engineering's Managing Director, Chris Galvin and General Manager, Peter Adam, participated in the annual Vinnies CEO Sleepout for 2018. The event aims to engage business owners and leaders to sleep outdoors on one of the longest and coldest nights of the year. This was Chris Galvin's 5th time participating in the event and his message was this:
"Like most June nights it will be chilly, but unlike the people who live every day on the streets, I will be back home in my comfy bed the following night. A luxury that most of us take for granted."
A little bit of discomfort for one night is a small sacrifice for an important cause, and as Chris has acknowledged, he has the relief of going home to a warm bed. The cornerstone of the campaign is that "a home is a right not a privilege". St Vincent de Paul provides services that allow for homeless Australians to have access to this basic right, when someone in need seeks assistance, Vinnies provides shelter, a hot meal, a warm bed and someone to talk to. On any given day across Australia, 57,000 people seek the support of specialist homelessness services. Over 9,900 are young people presenting alone.[2] The CEO Sleepout aims to break the cycle of homelessness in Australia and help alleviate the stress and risk for those that are most vulnerable.
The Galvin Engineering team fundraised a total of $13,388. The funds raised provide essential services to the many Australians experiencing homelessness. We were thanked with a certificate of appreciation and a beautiful card from St Vinnies Manager of Fundraising & Events, Lisa Torre.