Movember 2018 Update
Author: Madlin Zamir Date Posted:21 December 2018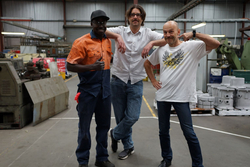 With a blink and a whisker, Movember is done and dusted for another year and we couldn't be more happy with what we achieved this time around.
Galvin engineering raised an epic $2,740 and joined Movember's Platinum Club.
We are thrilled to be able to contribute to make a difference for men with prostate cancer, testicular cancer and those facing tough times in mental health.
Our Hairy Upperlips have done amazing things by raising an outstanding amount of, $12,947.
This year was one of the biggest yet, and we are excited to be apart of a massive community of 85,000 Mo'Bors and Mo'Sistas around Australia.
We are glad that we can help raised over $24 million towards Men's health.