Townsville Institute of Hospital Engineering Australia (IHEA) Tradeshow
Author: Madlin Zamir Date Posted:8 April 2019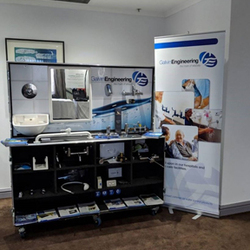 Galvin Engineering's Queensland Sales team participated at the Townsville Institute of Hospital Engineering Australia (IHEA) meeting, followed by a tradeshow at the Grand Chancellor Hotel in Townsville, Queensland on March 29th, 2019. It was the first ever event in Regional Queensland focusing on hospital infection control and Healthcare in the Central Sterile Supply Department (CSSD).
Over 70 Healthcare industry Professionals including Building Engineering Managers, Contractors, Queensland Health and Local Health Government representatives, Hydraulics Services Consultants, Architects and Suppliers to the Health industry attended the tradeshow.
Galvin Engineering presented a selection of specialist healthcare tapware with the focus on Point of Use Mixers, Hot Water Disinfection capable tapware, Infection Control, Scold Protection, Lead Safe™ tapware and best practice installation of tapware for critical health environments.
The tradeshow was an excellent opportunity for our Sales team to interact with key stakeholders involved in the design, building, and maintenance of hospitals within Regional Queensland. Lead Safe™ water delivery was a key topic with key stakeholders focused on delivering better services to the local community and looking to implement innovation into their facilities.