Wallgate Electronic Water Controllers
Author: Madlin Zamir Date Posted:18 February 2019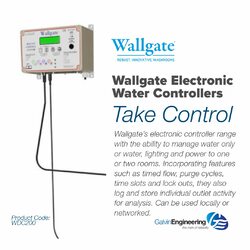 The Wallgate range of electronic water, power & lighting controllers is available in various configurations to suit your project requirements. Along with the ability to simultaneously control one or two rooms, the Wallgate WDC controllers are the best choice for plug and play installation and simple operation.
Incorporating features such as timed flow, purge cycles, time slots and lockouts, they also log and store individual outlet activity for analysis and can be used in either standalone operation or networked to a central hub or BMS system.
With Australian technical support and BMS integration technicians available, The Wallgate WDC controller range is trusted by facilities worldwide.

To find out more,
Link to website
https://www.galvinengineering.com.au/brand/wallgate/