Australian Made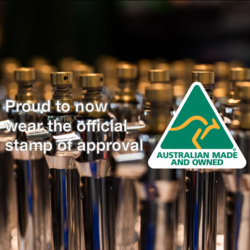 Proud to now wear the official
stamp
of approval
As a genuinely Australian company it was only a matter of time until Galvin Engineering would get aligned with Australian Made to receive the official stamp of approval for its Aussie authenticity.

Because we are an Australian owned and operated family business our heart and soul go into the design and manufacturing of products that are suited to Australian conditions.

Proudly manufacturing in Australia for 90 years we are continuingly investing in our local production facilities in Perth WA to keep providing water solutions for a healthier environment.

By adding the Australian Made logo to our products we are confirming our commitment to Australia as our production location adhering to customers preference of buying local products.

Download our certificate or browse our website to see what products have been licensed so far.

The History of Australian Made

Since the 1930s (also the year Galvin Engineering was founded) buying Australian Made has been advocated and championed by parliament and manufacturers alike.

In 1961 "Operation Boomerang" was launched by the Associated Chambers of Manufacturers of Australia and the first official Australian Made logo was born.

1986 Melbourne designer Ken Cato was commissioned to create a new version of the Australian Made logo by the Australian Government, which he slightly modernised in 2007 and is the logo we are using today.