Infection Prevention and Control Nurses College Conference 2017
Author: Nick Siddle Date Posted:24 October 2017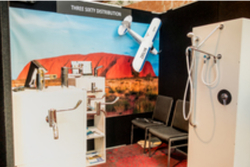 Last week our New Zealand Distributors, Three Sixty Distribution, along with our National Health & Aged Care Category manager displayed our tapware products at the Infection Prevention and Control Nurses College Conference
2017, Auckland.
The conference and Tradeshow was well attended with representatives from Health and Aged Care providers stopping
by our stand to understand how the Galvin Specialised range of Health
products works to address infection critical areas throughout their facilities.
On display, was our range of CliniMix® Progressive Lever and Sensor operated Thermostatic Mixers that provide state of the art features to comply with the latest healthcare requirements.
The single lever or sensor range focus on simplifying hand wash procedures and avoid hand contact.
Also displayed was our range of The Galvin Ultra GM Series of chrome plated sensor tapware that offer superior performance Health and Aged Care environments. Its hands free operation provides users a hygienic handwashing
experience while reducing water and energy consumption.
These two ranges, along with our entire suite of Tapware, Fixtures and Fittings offer todays Healthcare providers with
full building solutions.
For more information on these products in New Zealand, Please contact our Distributor, Three Sixty Distribution +64 21 145 9962