---
Our new state of the art Australian Made Galvin Specialised CliniMix® CP-BS Inwall Thermostatic Progressive Shower Mixer with GalvinCare® Handle for shower applications. Specifically designed for mental health and health care facilities featuring an easy to operate on/off temperature control and option to be set to a thermostatically controlled temperature of 48°C maximum. Suitable for high and low pressure systems, reliable CliniMix® CP-BS Thermostatic Progressive Shower Mixer is water conserving and cost-effective. Designed to allow for an electronic piezo activation button fitted, and once activated, flow and temperature will commence where it was last set at. Contact our specialist sales team for electronic controller options.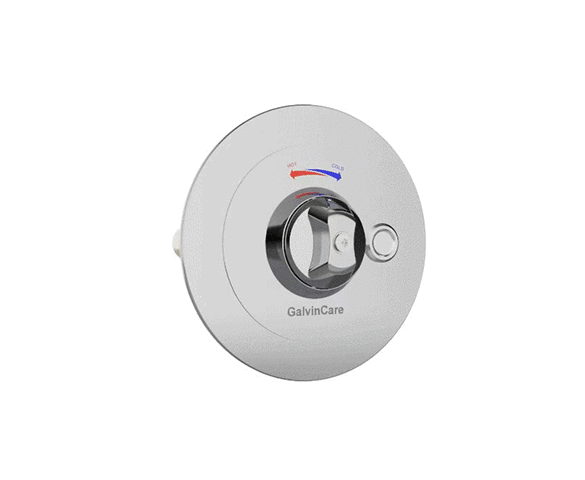 Features
Australia's first Lead Safe™ progressive mixer range is AS/NZS 4020 tested and certified to AS 4032.4

Has a unique thermal disinfection bypass feature (kit sold separately)

Reduces risk of Legionella growth by mixing water close to point of discharge and minimising stagnant warm water

Minimises dirt build up and is fast and easy to clean due to its smooth internal and external design

Can be set to a thermostatically controlled water temperature of 48°C

All servicing and commissioning can be done without removing the device. Easy to access isolators helps to minimise the time of commissioning and maintenance

Rapid shut down in event of cold or hot water supply failure
Technical Information
Inlet: 1/2" BSP - Male

Outlet: 1/2" BSP - Male

Headwork: Thermostatic Mixing Valve (TMV)

Working Pressure Range (kPa): 50 Min - 500 Max

Working Temperature Range (°C): 5 Min - 85 Max

Minimum Temperature Differential (between supply and the outlet temperature) (°C): 10

Adjustable Temperature Range (°C): 35 – 48 Max

Permitted Supply Pressure Variation: 10:1

Factory Set Thermostatic Temperature (°C): 41

Minimum Flow Rate for Stable Outlet Temperature (LPM): 6

Maximum Flow Rate (LPM): 18@300kPa

Construction: DZR Brass

Finish: Chrome
In the absence of a legal or industry definition of anti-ligature or ligature resistant products, when we use these terms, we are referring to products that are designed and manufactured with the intention of reducing the risk of ligature attachment to the product(s). Galvin Engineering Pty Ltd will always endeavour to design and test our anti-ligature product(s) to reduce the risk of product ligature attachment that may result in serious injury or death.Whilst all reasonable measures are taken at the time of design, the anti-ligature design of the products are not intended to and will not:
a. Replace protective measures that need to be taken in the specific circumstances of usage; c. Protect and or prevent those at risk against any self-harm instances that may occur when installed; and b. Substitute the need for supervision of those who may be at risk; d. Protect and or prevent injury when the risks where unknown to us at the time of the design of the product(s). Galvin Engineering Pty Ltd does not offer and does not represent or warrant that any product(s) for sale that are ligature-free. Therefore, Galvin Engineering will not be liable for any claims, loss, or damages arising from ligature attachment on our products. It is the purchaser's responsibility to ensure that products purchased and installed are suitable for the environments in which they are installed, and suitable supervision and protective measures are in place to protect those at risk.Whilst all reasonable care has been taken in compiling the information in this document, the designs, dimensions and products shown are indicative only and should not be relied upon without our prior approval. Due to our policy of continuous development, we reserve the right to alter any details of specifications or products without notice. All information, drawings, technical specifications and product designs remains the property of Galvin Engineering Pty Ltd.
---
---
The prices on this website are indicative only, and are the Recommended Retail Price for stores and online sites selling Galvin Engineering products.
The actual pricing charged will ultimately be decided by those stores and online sites selling Galvin Engineering products. Stores selling Galvin Engineering products are listed on our website here.
The prices are in AUD, are inclusive of GST, are exclusive of freight, and are subject to change without notice.
---
Others Also Viewed
---
More From This Category