Case Study - Joondalup Health Campus Redevelopment (WA)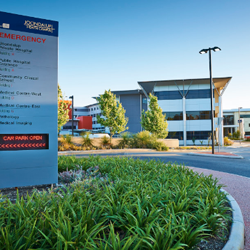 Joondalup Health Campus Redevelopment (WA)
Architect & Hydraulic Consultant:
Sliver Thomas Hanley; Sinclair Knight Mertz
Description:
Joondalup Health Campus in Perth, Western Australia will soon become double the size thanks to the multi-million dollar redevelopment, which was confirmed on hospital grounds by WA Health Minister Dr Kim Hames on Wednesday 7 January 2009.
The State Government had given to go-ahead to a $229.8 million major expansion of Joondalup's public services, in addition to the $90 million provided by Ramsay for the private component.
Work began in 2009 and is expected to be completed in 2013. Construction work will be phased to enable the existing hospital to continue to operate normally during this period.
Key stages of the redevelopment:
61 per cent increase in bed numbers for public patients – 280 to 451 beds by 2013
The new private hospital will increase to 85 beds and will be open by 2011
A new state-of-the-art Emergency Department, which will be almost two and a half times the size of the existing department
11 new operating theatres, replacing the existing six
By 2013, the expanded Joondalup Health Campus will have a combined total of 536 beds making it one of the largest hospitals in WA
An additional 20-bed dialysis service will also be established in the vicinity
Products Specified and Installed: Vinyl Floor Drains & Cleanouts, Electronics, Surgical Tapware, Lever Action Tapware, and Commercial Tapware
---
Leave a comment