Case Study - Banksia Hill Detention Centre (WA)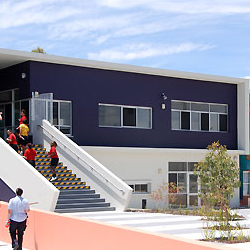 Banksia Hill Detention Centre (WA)
Architect & Hydraulic Consultant:
TAG Architects; Sinclair Knight Mertz & Steve Paul & Partners
Description:
A major expansion at Banksia Hill Detention Centre is progressing well with the awarding of the Stage 2, $15.6million contract to Badge Constructions (WA) Pty Ltd. The contract is for three new accommodation buildings for male detainees and two for female detainees, along with additional offices, a case planning unit and a family visits' space.
The extension is in addition to Stage 1, which provided additional education facilities, an additional accommodation wing and significant extensions to the admissions building to cater for remand detainees.
The upgrade provides extra capacity to house all youth detainees at Banksia Hill in readiness for the opening of the State Government's new Young Adults Facility at Rangeview, as well as valuable new educational and administrative facilities.
Designed by TAG Architects, the new buildings cater for operational efficiency and flexibility vital in a detention centre, while promoting a 'therapeutic community' that provides privacy, encourages a learning environment for life skills and builds personal responsibility and trust.
Products Specified and Installed: Safe-Cell® Showers, Electronic® Tapware, Safe-Cell® Floor Drains, Safe-Cell® Basin Outlets.
---
Leave a comment