Case Study - Sir Charles Gairdner Hospital Emergency Department and Mental Health Unit (WA)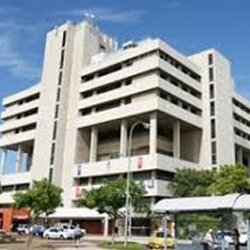 Sir Charles Gairdner Hospital Emergency Department and Mental Health Unit (WA)
Architect:
Lyons Architects
Description:
The new mental unit and refurb at Sir Charles Gairdner will provide psychiatric liaison services to general health wards and the emergency department and would also offer intensive day therapy programs focusing on rehabilitation and recovery. There was an emphasis on patient and carer peer support and improving the integration of care between hospital and the community. They now have the ability to admit involuntary patients, streamlining the treatment of people with mental illnesses presenting at the Sir Charles Gairdner Hospital's busy emergency department. In the past, patients have had to wait more than 30 hours to be transferred to a secure facility like Graylands Hospital.
As with all mental health facilities there is a strong emphasis on patient and staff safety. Our challenge was to provide anti-Ligature tapware, pans and drains for the bathrooms of patients at high risk, whilst providing an environment that encouraged rehabilitation by having a normalised environment.
In addition, being a hospital, hygiene was a major concern so all products are easy to clean and laminar flow where possible to reduce the risk of infection, particularly legionella. Infection control staff were heavily involved in ensuring all fixtures met their stringent standards and were very pleased with the rimless toilet pans having rejected other seat-less pans with "comfort ridges".
All tapware was closely monitored and signed off at each stage by infection control staff, hospital staff and facility managers to ensure it was within the design brief.
Products Specified and Installed: A five star range of tapware and fixtures that provides the necessary infection control benefits and green star outcomes, combined with a reliable range of electronic wall sensor taps and lever taps. In addition, the range of anti-ligature SafeCare tapware and Solid Form sanitary fixtures were the optimum choice to fulfil the challenging brief, requiring both anti-ligature and accessibility compliance.
"… The solid form toilet pans from Galvin Engineering provided a unique design solution which met all our specification requirements for the toilets at the Emergency Department bathrooms – with their anti-ligature design, smooth lines for ease of cleaning and infection control, colour-contrasting seat, non-institutional appearance and a relatively comfortable sitting surface. Galvin Engineering were also able to arrange for a customised version of the standard model to accommodate the site-specific fixing requirements, without compromising the inherent features of the original pan design …" Jenelle Acton, Lyons Architects – May 2015
---
Leave a comment