Case Study - Townsville Hospital (NQLD)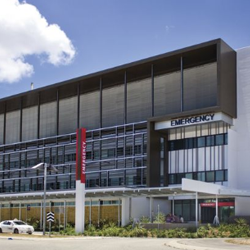 Townsville Hospital (NQLD)
Architect:
Cox Rayner
Description:
Located in Townsville, Queensland, The Townsville Hospital redevelopment stages 3 & 4 deliver a Clinical Support and Services Building, Cancer Care Expansion (Oncology), Clinical Ward Block (South Block) and Pathology Laboratory Expansion.
The Challenge was to provide the latest in health services tapware and specialised grating designed to minimise the risk of infection and germ contamination. User groups and Healthcare professionals demanded a high level of hand hygiene in line with current infection control guidelines.
Products Specified and Installed: Galvin Engineering's complete range of Healthcare tapware and customised stainless steel grating products were selected to meet and exceed infection control guidelines. Along with their modern streamlined looks, the Galvin Engineering range of CliniLever® and Hands free tapware offers the facility ease of use, easy maintenance and are easy clean. All Galvin Engineering taps are supplied with laminar flow devices to minimise the spread of legionella.
---
Leave a comment