Redcliffe MBICC Cancer Building Relocation
Author: Nick Siddle Date Posted:27 July 2017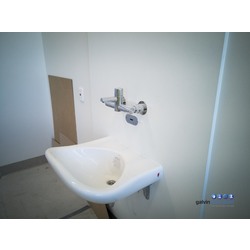 Designer
Conrad Gargett
Client
Queensland Health Metro North Division
Description
Following the Queensland State Government commitment for funding for the Metro north, The State Government will spend $11 million on acute beds and refurbishing a day procedure unit at the Redcliffe Hospital.
This project included the relocation of the outpatient Kidney Health Care Service and Cancer Care Service from the hospital to the Moreton Bay Integrated Care Centre (MBICC)
Our Challenge
Our challenge was to provide highly robust point of use sensor tapware focussed on addressing issues around infection control.
The brief included tapware that was self-purging, self-draining, touch free and offered the facility the function to run a Hot water sanitisation flush cycle as Culture forming units (CFu's) of legionella's were detected.
Being a hospital, hygiene was a major concern, all of Galvin Engineering's tapware products are easy to clean and laminar flow where possible to reduce the risk of infection, particularly legionella. Infection control via our integrated Progressive Thermostatic Mixing taps will ensure all fixtures work to assist the control of Legionella and other infectious bodies that may lead to hospital acquired infection and poor patient outcomes.
Our Solution
The team from Galvin Engineering Queensland worked with all stakeholders from specification, through to installation and commissioning to ensure the brief was met. This included supporting documentation around flow projections, mounting heights and maintenance.
Our specialist health team have also provided ongoing assistance and training during this project to the onsite facility managers (FM's) to ensure the facility and its clientele achieve better infection control results and better patient outcomes.
Products Specified and Installed:
The CliniMix range of Progressive Thermostatic Mixing tapware and fixtures that provides the necessary infection control benefits and green star outcomes, combined with our reliable range of electronic sensor taps was the right choice for this specialist project.