Sunshine Coast University Hospital (SCUH) – Mental Health Unit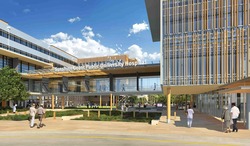 Designer
D&C Lend Lease
Description
The Sunshine Coast Mental Health and Addiction Services provide hospital-based inpatient and community mental health services, as well as a community alcohol and drug service to those living within the Sunshine Coast and Gympie area.
As with all mental health facilities there is a strong emphasis on patient care and positive health outcomes as well as staff safety and productivity.
Our Challenge
Our challenge was to provide anti-ligature tapware, bespoke electronic tapware and specialist showering accessories for the bathrooms of patients at high risk, whilst providing an environment that encouraged rehabilitation by having a normalised environment.
Being a hospital, hygiene was a major concern, all of Galvin Engineering's products are easy to clean and laminar flow where possible to reduce the risk of infection, particularly legionella. Infection control via our integrated Progressive Thermostatic Mixing taps will ensure all fixtures work to assist the control of Legionella and other infectious bodies that may lead to hospital acquired infection and poor patient outcomes.
Our Solution
Galvin Engineering's R&D and project specialists were engaged by the builder to design a bespoke electronic tapset that worked to regulate water controls and protect the units most venerable clients.
Galvin Engineering's solution involved customised Piezo actuated shower and WC controls that could be isolated externally to the unit's secure rooms reducing the risk of misuse and self-harm.
This system needed to be robust to meet the secure requirements set out by the client as well as met the local government requirements for PWD compliance and usability.
Products Specified and Installed:
A five-star range of tapware and fixtures that provides the necessary infection control benefits and green star outcomes, combined with a reliable range of electronic taps and our Safe-Cell range of Progressive Thermostatic Mixing taps. In addition, Galvin Engineering designed and manufactured Safe-Cell extended wall spout that was Anti-Ligature in design and aesthetically pleasing.
Our range of standard Safe-Cell products and bespoke electronic taps along with custom wall spouts not only fulfilled the challenging brief but also met anti-ligature and accessibility compliance.
"… I would like to thank you personally and the Galvin Engineering team for the Support and Expertise that you have provided over numerous Health and School projects. The recently completed 'Sunshine Coast University Hospital Mental Health Unit' was a very demanding and challenging project with specialised product. The many hours spent by the Galvin team liaising with all stakeholders, providing design, product testing and assisting with installation information made the project the success it was. This again highlighted for me the commitment of the Galvin Engineering company to its customers and the industry. I look forward to working with the Galvin team in the future …" Michael Sheperd, MASC – February 2017