The Caboolture Hospital Emergency Department Expansion
Author: Nick Siddle Date Posted:5 December 2017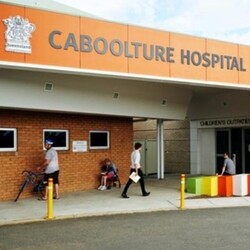 Health and Ambulance Services Minister Cameron Dick said Caboolture would share in $112.2 million over four years for planning and preparatory works for the redevelopment and expansion, with a further $19.6 million allocated to expand the emergency department (ED) over the next two years.
Minister Cameron Dick Said, "This expansion will meet the urgent need to increase the emergency department capacity, facilitating better service delivery and reducing waiting times and overcrowding".
"The expansion will provide 14 new treatment spaces, four consultation rooms and one treatment room; almost doubling the current ED capacity".
Our Challenge
Our challenge was to provide highly robust point of use sensor tapware focussed on addressing issues around infection control. The brief also required hot water piped directly to fixtures, addressing and reducing dead leg pipework sections to address infection control and aide in better water management.
The brief included tapware that was self-purging, self-draining, touch free and offered the facility the function to run a Hot water sanitisation flush cycle as Culture forming units (CFu's) of legionella's were detected.
Being a hospital, hygiene was a major concern, all of Galvin Engineering's tapware products are easy to clean and laminar flow where possible to reduce the risk of infection being aerosolised, particularly legionella. Infection control via our integrated Progressive Thermostatic Mixing valves into the tapware will ensure all fixtures work to assist the control of Legionella and other infectious bacterium that may lead to hospital acquired infection and poor patient outcomes.
Our Solution
The team from Galvin Engineering Queensland worked with all stakeholders from specification, through to installation and commissioning to ensure the brief was met. This included supporting documentation around flow projections, mounting heights and maintenance.
Our specialist health team in Queensland have also provided ongoing assistance and training during this project to the onsite facility managers (FM's) and installing contractors to ensure the facility and its clientele achieve better infection control results and better patient outcomes.
The CliniMix range of Progressive Thermostatic Mixing tapware and fixtures that provides the necessary infection control benefits and green star outcomes, combined with our reliable range of electronic sensor taps was the right choice for this specialist Healthcare project.
Products Specified and Installed:
WM-TMVPMW-PS
The first Australian approved Progressive Mixer with an inbuilt thermal disinfection facility for the wall mounted basin unit, helping to minimise the build-up of bacteria.
Enables water to be mixed closer to the point of discharge, minimising warm water which can provides the ideal condition for legionella bacteria to grow.
Completely smooth internal components and body, combined with the unique design of the downward angled spout and hygienic flow straightener, limiting bacterial development and reduces scale build-up.
The body of each CliniMix® Wall Progressive Mixer is specifically designed with an insulated internal fitting that keep its exterior cooler to the touch.
Fitted with a maximum temperature limiter so there is no risk of accidental scalding.
Designed to coordinate with our ranges of healthcare taps, with clean smooth lines which facilitates fast and easy cleaning.
All servicing and commissioning can be done without removing the device, with easy access isolators, which helps minimise the time of commissioning and maintenance.
Designed to provide stable mixed temperature and rapid shut down in the event of cold water or hot water supply failure.
Approved to: AS/NZS 4032.1:2005 and complies with AS/NZS 4032.4
Hands free operation to minimise the spread of infection.
TZ-FLOWSRIM
Sensor face is designed to be mounted flush into the wall/trough to minimise the growth of dirt or bacteria, combined with the sensor eye and screws that are supplied.
Sensor circuit boards are supplied standard with a lacquer finish to limit the damage that may be caused by moisture.
The multiple time cycle options is able to be adjusted on site, which allows the facility manager the flexibility of adjusting to suit user requirements.
Built in capacitors and easy fit electrical filters to help suppress external noise, and provide a continuous reliable delivery of water.
24 volt low power usage solenoid to reduce the power usage and costs
TF82WJP-PS
15mm BSP male connection on the inlet
1000mm long high-pressure hose with swivel ends
Stainless steel spring
Trigger hand spray
Chrome plate finish for easy cleaning and added durability
Additional 250mm pot filler with 80mm lever control tap
Tested for cleanability to ASTM F2324-03 at 21.46 seconds
TM-SNKCPD
40mm cartridge assembly
Extended lever (165mm)
Bright chrome plate finish
Anti-scald adjustable stop ring
Optional warm/cold indicator decal
Fitted with 7 litres per minute flow regulator
Maximum operating temperature range: 80°C
Min/Max operating pressure range - 150 - 500kPa
Inlet connection 15mm (1/2") BSP. (Flexitails)
Inlet pressure range 150-1000kPa
Fitted with an adjustable anti-scald stop ring