The Royal Victorian Eye and Ear Hospital Redevelopment
Author: Nick SIddle Date Posted:5 December 2017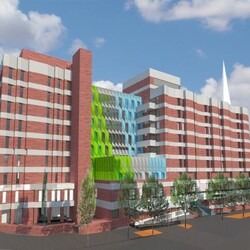 The Royal Victorian Eye and Ear Hospital is currently undergoing a much-needed redevelopment, in order to provide an industry leading health facility for the Victorian community.
Construction work began in 2013 and is due for completion in late 2018.
Our Challenge
The team at Galvin Engineering Victoria was faced with the challenge of providing precise temperature controlled water valves to serve the specified tapware. This along with the necessity to have a stylish modern access cover with minimal aesthetic impact was required.
Being a hospital, hygiene and scald protection is a major concern, the use of Thermostatic Mixing Valves is mandatory and having a quality valve that is designed to cope with the demands of a modern healthcare facility is vital.
Our Solution
The implementation of the Galvin CliniMix Thermostatic Mixing Valves was the solution to the facilities and regulatory authority's requirements to provide protection against scolding and cold-water shock.
Careful consideration was also needed for the wall depths and wall types. This was done in consultation with our local sales consultants.
The CliniMix vales are supplied pre-plumbed and ready to install. Fitted into a stylish, low profile Stainless Steel, in wall box with hinged door made the CliniMix valve made installation a breeze.
Our specialist health team have also provided ongoing assistance and training to the installing contractors during this project to ensure the valving and associated hardware is installed correctly and operates as expected. This, along with ongoing support to the facility and its BEMS team will ensure water is delivered safely to patients and staff for many years to come.
Products Specified and Installed:
WM-CABH021
Safe, simple and easy to maintain
Flat faced connections allow removal of the valve without disturbing the pipework
In the event of either hot or cold water supply failure the valve will shut down.
Suitable for installation in low pressure systems and will operate with a working pressure as low as 20kPa
Water temperature is stabilised at plus or minus 2 degrees even during water pressure or temperature fluctuations
Units come complete with right angle isolating ball valve, non-return valve and strainer assemblies
Can be installed in any configuration with the water outlet in the horizontal or vertical position, and inlet connections can be rotated to suit inlet pipework
Stainless steel hinged door cabinet
20mm bottom in and out used on this project
WM-CABH032
Safe, simple and easy to maintain
Flat faced connections allow removal of the valve without disturbing the pipework
In the event of either hot or cold water supply failure the valve will shut down.
Suitable for installation in low pressure systems and will operate with a working pressure as low as 20kPa
Water temperature is stabilised at plus or minus 2 degrees even during water pressure or temperature fluctuations
Units come complete with right angle isolating ball valve, non-return valve and strainer assemblies
Can be installed in any configuration with the water outlet in the horizontal or vertical position, and inlet connections can be rotated to suit inlet pipework
Stainless steel hinged door cabinet
20mm cold water bypass bottom in and out used on this project