Finding the solution to Accessible Bathroom Compliance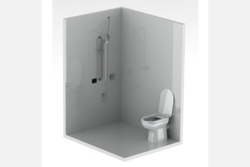 AS1428.1:2009, What is it all about?

AS 1428.1 2009 was amended in November 2010. Changes to Wall outlets heights are impacting plumbing design as well as creating issues around backflow prevention.

The changes now set out a maximum height of 700mm from finished floor level of the wall outlet of the shower hose and a minimum shower hose length of 1500 mm. See Figure 2, These changes have resulted in an increased likelihood that the shower head will fall and remain below the rim of the toilet pan creating a high hazard backflow risk. It is recommended that the provisions for access facilities is discussed in the building design stage or before construction commences. Designers should look at a reconfiguration of the plumbing fixtures or moving the outlet for the shower hose horizontally along the wall away from the toilet pan. These changes may avoid a high hazard backflow risk. In most retrofit installations, the design of new bathrooms is governed by existing room dimensions and the ClevaCare Shower Kit may be the only solution that is "deemed-to-satisfy" the current AS1428.1:2009 requirements. Consultation with your local council is always recommended.

Regulatory Requirements
With the ongoing push to ensure accessible bathrooms meet requirements set out in AS 1428.1:2009, today's designers, engineers and installers need to ensure compliance to the requirements of the Plumbing Code of Australia (PCA) 2016 which lists AS 1428 as mandatory accessibility requirement for people with disability and people with ambulant disabilities.

Installation of a Backflow Device RPZd vs Galvin ClevaCare Shower Arm

The installation of a high hazard rating backflow prevention device, for example a reduced
pressure zone device (RPZd) is not a solution and must not be used on the water supply to the shower outlet. The requirement in the Plumbing Code of Australia; BP1.1 and BP2.1 state that only drinking water must be supplied to outlets for personal hygiene. Any flow downstream of an RPZd is generally considered non-potable and for this reason, should not be considered. These RPZd's also require registration with local area councils and require annual testing.

If reconfiguration of the plumbing fixtures does not solve the backflow issue, another solution is the installation of a Galvin Specialised ClevaCare Shower kit and accessories. This device, when installed in conjunction with AS1428.1:2009 retracts the shower head after use and removes the cross-contamination hazard.

The Galvin Specialised ClevaCare shower arm and accessory kit is the preferred choice among designers and installers.

What does Ambulant Disability mean?


Ambulant disability means people who have a mobility disability but are able to walk. AS 1428.1:2009, clause 15 and clause 16 have mandatory installation requirements for water supply taps, plumbing fixtures and fittings to assist people with disabilities. These requirements mean that careful consideration of plumbing fixtures and fittings along with room design is imperative to ensure compliance for accessibility and backflow hazard reduction.