Chris Galvin on Perth Live with Oliver Peterson - Lead Free Stainless Steel Bubblers for Schools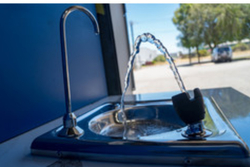 Family-owned commercial tapware manufacturer Galvin Engineering has launched Australia's first lead free stainless steel push button drink tap.
The AS/NZS 3718 Watermark approved Ezy-Drink® GalvinClear Stainless Steel Remote Push Button Drinking Bubbler Tap is the ultimate choice for drinking fountains. Due to its innovative design and 316 stainless steel construction there is no risk of lead leaching into the water from the tapware.
Galvin Engineering has developed the GalvinClear stainless steel range of Ezy-Drink taps in response to the growing demand from the community for a lead-free alternative.
Galvin Engineering Managing Director Chris Galvin has recently appeared on Perth Live with Oliver Peterson to discuss the issues facing Perth Students as they return to school.
Find out more at the website GalvinClear.com.au
---
Leave a comment