Bardia Public School Redevelopment
Author: Madlin Zamir Date Posted:21 January 2019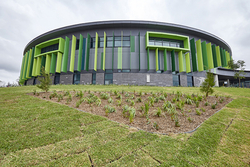 Description:
Bardia Public School formerly known as Ingleburn North Public School is undertaking a $35 million upgrade to accommodate the projected enrolment growth in and around Edmondson Park and Ingleburn. The total value of the product supplied was $35,000 across a range of school-based fixtures, bubblers in stainless steel troughs to student rooms, amenities to staff facilities, sick bay and canteen. Galvin Engineering also supplied TMV's, timed flow tapware and floor grates into this project, rounding off a complete package supply. All products provided were in accordance with the New South Wales Education Facility Standard Guideline product and compliance guidelines.
Challenges:
The Project was tackled in 2 stage's as the new build and demolition of the existing school provided some site challenges, in order to maintain a clear separation between the construction site and existing school throughout the project with the health and safety of staff and students being a priority.
Solution:
The complete redevelopment involves 40 new teaching spaces, 4 special education teaching spaces, a covered outdoor learning area, (COLA), special program rooms, a library, hall, canteen, landscaping which included a games court and playing field in addition to administration and staff facilities.
Project start and finish:
September 2018 – January 2019
Project Location:
Ingleburn North
Feedback:
The feedback we received from our client has been overwhelmingly positive.
Ken Hale from Ken Hale Plumbing: "Thank you for everything throughout this year. The service has been appreciated, delivering our stock directly to our warehouse. Communication has been constant and whenever we need something, you are always willing to help. We look forward to working with you again in 2019 and beyond."