Optus Stadium Case Study
Author: Madlin Zamir Date Posted:29 May 2019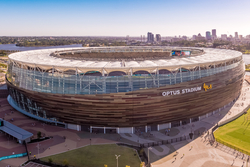 Description:
The objective of this project was to help develop a multi-purpose world class venue that would offer fans an exceptional experience in a first-class atmosphere catering to 60,000 fans.
The design included a customised sequential urinal flushing system that would conform to the scope of the works based on the maximum usage limits for the project.
Challenges:
To design and manufacture the urinal flushing system and the electronic Lead Free drinking bubblers and deliver them in time to meet the construction schedule.
Solution:
The products supplied by Galvin Engineering were chosen due to their robust nature, massive water savings, and the health benefits of using hands-free activation and Lead Safe™ materials. Our offer was boosted by being a local manufacturer, with the ability to provide flexible product solutions and the quality of a product that is backed by a household name.
Project Architect:
Cox Architects / Hassell
Project Builder:
Multiplex
Project Plumbing Contractor:
Sanwell Plumbing
Project Location:
333 Victoria Park Dr, Burswood WA 6100
Project Start and Finish:
The consultation started in December 2013 and the project completed in late 2017.
The testimonial was written by Brendan Long, General Manager of Sanwell Plumbing
"Sanwell has a long-standing relationship with Galvin Engineering, and we have been installing its range of specialised products in multiple marque projects throughout Western Australia such as Optus Stadium. Optus Stadium provided Sanwell with the unique opportunity to work with the engineering team at Galvin Engineering by assisting in the development of water-efficient flushing systems throughout the venue. Galvin Engineering product lines are well designed, robust and stand the test of time. Their product knowledge, sales and aftermarket service are exceptional, and these are the reasons why Sanwell place our trust in Galvin Engineering for our projects."
To download PDF Case Study click on the thumbnail below: