Port Macquarie Base Hospital
Author: Madlin Zamir Date Posted:13 June 2019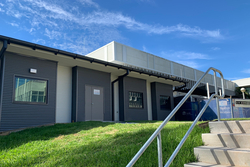 Project Description:
The NSW Government dedicated $17.5 million into expanding mental health facilities at the Port Macquarie Base Hospital Mental Health Unit. The newly refurbished mental health unit will enhance the care provided to mental health patients, including improved capacity to provide care to youth and elderly patients.
The project will provide flexible patient care zones, secure patient rooms with natural light, staff stations, quiet spaces for relaxation, multifunctional activity room, dining and lounge areas, secure landscaped courtyards and an interview/admission room. The expansion is developed in consultation with local user groups, including doctors, nurses, allied health, support staff and consumers who
have assisted throughout the design process.
Project Location:
Wrights Rd,
Port Macquarie NSW 2444
Project Challenges:
To provide robust anti-ligature tapware, sanitary ware fittings and fixtures that normalise the area and soften the appearance without compromising the safety of staff and patients.
Project Solution:
Galvin Engineering anti-ligature tapware and quick connect showers were specified due to the robust design, to normalise the area and for patients that require assistance while showering. As part of the project management and supply side of the refurbishment, our team identified the importance of placing the orders as soon as possible. The manual taps that were specified had to be ordered 18 weeks in advance due to the timeline of the project. Our team supported the plumbing contractors with installation instructions and provided installation images for ongoing assistance to ensure the hardware is installed correctly and operates as expected.
Project Contractors:
Architect: Silver Thomas Hanley
Designer: AW Edwards
Plumber: O'Brien Plumbing Port Macquarie
Products Installed:
GalvinCare Stainless Steel Dual Flush Pneumatic Push Button
GalvinCare Mental Health Paddle Handle Wall Top Assembly
GalvinCare Mental Health Quick Connect Hand Shower
Clinilever Chrome Plated Surgical Mtd Mixing Unit
Clinilever Single Lever Basin and Sink Mixer
Ezy-Wash Pre-Rise Wall Mtd Unit
Flowmatic Automatic Controlled Sensor
Safe-Cell Ezy-Grip Wall Top Assembly
Wallgate Anti-Ligature, Anti-Vandal Solid Surface Basin & Pan
Safe-Cell Anti-Ligature Floor Waste
Testimonial:
"Silver Thomas Hanley was pleased to have worked with Galvin Engineering on Port Macquarie Base Hospital Mental Health Facility.
Galvin Engineering was able to offer a unique range of sanitaryware and tapware that meets the Clients requirements of robustness, ease of use and Ligature resistance. Galvin Engineering is always extremely helpful and professional, and provide excellent technical support from procurement to commissioning. Galvin Engineering is open to new ideas, developing their products, service, packaging and delivery methods to suit our Clients project requirements. We would highly recommend Galvin Engineering Health Care products, and we shall continue to use them on future Health projects."
Bill Kaloudis
Associate, Silver Thomas Hanley
To download PDF Case Study click on the thumbnail below: