2016 Mental Health Product Innovation Award
Author: Galvin Specialised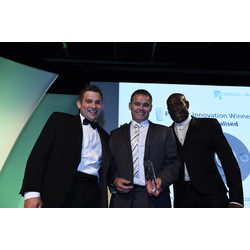 We are extremely excited to announce that Galvin Engineering recently won the Product Innovation Award for 2016 at the Design in Mental Health conference in Birmingham, UK.
The Design in Mental Health Network conference brings together people from around the world who are intimately involved in the mental health industry. This includes designers, architects, engineers, care providers, government and product / service suppliers, as well as thought leaders and speakers in this field. The conference continues to push the boundaries in all aspects of health design including providing healthy environments that are not only safe but are more responsive to the needs of patients and carers.
Over the last three years we have attended the DIMH conference and have displayed our unique range of specialised taps and valves for mental health facilities alongside our partners in the UK, Wallgate Ltd. Wallgate are a leading designer and manufacturer of anti-ligature sanitary ware and control valves, and provide a comprehensive range of solid form fixtures that help provide safer environments in specialist care bathrooms. This focus sits well with our vision of providing health care taps and valves that are safe and help speed the process of healing, but importantly are made to be user friendly and look stylish. This is in contrast to the harsh institutional look of products often provided by many manufacturers as a solution for behavioural health facilities. Over many years, our research and interaction with mental healthcare experts around the globe has helped us understand that providing patients with normalised home-like spaces, generally results in shorter lengths of stay, lower levels of aggression and critical incidents, better client outcomes and improved staff conditions.
Our award wining product, the #42028 GalvinCare Anti-Ligature Shower Control Valve with Electronic Activator, has been designed to provide users and patients with an easy to use way of activating and controlling a shower, whilst providing the anti-ligature and vandal resistant features needed in mental health care environments. The tap has a unique looking spherical controller that is easily manipulated by using the palm of your hand and/or your fingers to control the temperature, which makes it suitable for people with arthritis or other impeding hand health issues / injuries. The polished stainless steel finish and smooth form also provide a normal homely look, and the design and materials used ensure the unit is capable of resisting heavy knocks and rough treatment.
Our new shower valve complements our full range of Mental Health showers, control valves, taps and fittings, and with our partners in anti-ligature sanitary ware, Galvin Specialised can provide a full bathroom solution for any mental health project. The entire range can be viewed on our website www.galvinspecialised.com.au which also provides designers with the ability to download specification data sheets, and CAD files.
For further information please phone us on 1300 514 074
---
---
Leave a comment