Footscray Park - Playground and Public Amenities Development (Victoria)
Author: Madlin Zamir Date Posted:20 February 2019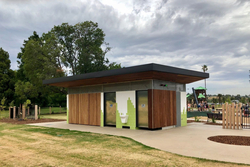 Description:
The objective of the Footscray Park – Playground and Public Amenities Development was to develop new play space, picnic areas and amenities in a large local park that will suit children of all abilities. The design included unisex public facilities that are adjacent to the picnic and play areas to encourage longer stays and improved access and safety.
Challenges:
This project was a trial project that had a public consultation. This model will be used to roll out elsewhere.
Solution:
The products supplied by Galvin Engineering were chosen due to their robust nature and they have a normalised aesthetics, in lieu of the institutionalised look. Our offer boosted by being a local manufacturer, with the ability to provide flexible product solutions.
The benefits of the development are an architectural encompassing feel to the environment with a robust yet normalised finish that will withstand public use and last for many years.
Location:
Footscray Park – Victoria
Project Start and Finish:
Consultation started in 2017 and the project was completed in later 2018.
Architect and Plumber:
Guymer Bailey Architects
Chapman Plumbing