Case Study - Greybase Hospital Redevelopment Greymouth NZ (South Island)
Author: Nick Siddle Date Posted:1 May 2018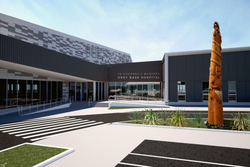 The New Zealand Government is delivering a $77.8 million new hospital and integrated family health centre in Greymouth for the West Coast community.
The 8,500 square metre facilities, adjacent to the current Grey Base Hospital, includes 56 in-patient beds, three operating theatres, and an integrated family health centre to support the delivery of primary healthcare services. It will also house and support the delivery of other clinical services including a 24/7 emergency department, critical care unit, acute and planned medical and surgical services, maternity services, and outpatient care.
Construction began at the end of May 2016 and the new facility is expected to open in 2018.
Source: https://www.health.govt.nz/our-work/hospital-redevelopment-projects/west-coast-hospital-facilities
Key stakeholders across this project
Designer / Architect
Jacobs Australia
CCM Architects NZ
http://www.ccm.co.nz/projects/healthcare/grey-base-hospital/
Installing Contractor
DBC David Browne Contractors
Client
Ministry of Health New Zealand
West Coast District Heath Board (WCDHB)
Territory
NZ – Distributed by Three Sixty Distribution
_______________________________________________________________________________
Greybase Hospital Redevelopment Greymouth NZ (South Island)
Our Challenge
The team at Three Sixty Distribution and Galvin Engineering Queensland were faced with the challenge of providing precise temperature controlled Integrated Thermostatic tapsets that provided scald protection and assist the facilities water management and Infection control plans. This, along with the necessity to have a stylish modern tapware with minimal aesthetic impact was required.
The team from Galvin Engineering and Three Sixty Distribution worked with the key stakeholders across Australia and New Zealand to ensure we understood local government requirments and those of the facilities. Being a hospital, providing clinical services to the greater Greymouth region, hygiene and scald protection is a major concern. The use of Thermostatic Mixing Valves is mandatory and having a quality valve that is designed to cope with the demands of a modern healthcare facility was vital.
Our Solution
The installation of the Galvin CliniMix Thermostatic Mixing Valves was the solution to the facilities and regulatory authority's requirements to provide protection against scold related injury and cold-water shock. This range of Thermostatic tapware also offers the client cost savings related to maintenance and will have a direct impact on managing infection, like Legionella, via the ability to perform in-situ hot water sanitisation of the tapsets when required.
Our specialist health team have also provided ongoing assistance and training to the installing contractors during this project to ensure the valving and associated hardware is installed correctly and operates as expected. This, along with ongoing support to the facility and its BEMS team will ensure water is delivered safely to patients and staff for many years to come.
Products Specified and Installed:
CliniMix Chrome Plated Brass Hob Mounted Thermostatic Progressive Basin Mixer - Lever
Product Code : WM-TMVPMB
https://www.galvinengineering.com.au/clinimix-chrome-plated-brass-hob-mounted-thermosta
CliniMix Chrome Plated Brass Inwall Thermostatic Progressive Shower Mixer - Lever
Product Code : WM-TMVPMS
https://www.galvinengineering.com.au/clinimix-chrome-plated-brass-inwall-thermostatic-p
CliniMix Chrome Plated Brass Wall Mounted Thermostatic Progressive Basin Mixer - Lever
Product Code : WM-TMVPMW
https://www.galvinengineering.com.au/clinimix-chrome-plated-brass-wall-mounted-thermost
CliniMix Chrome Plated Brass Wall Mounted Thermostatic Progressive Basin Mixer - Proximity Sensor
Product Code : WM-TMVPMW-PS
https://www.galvinengineering.com.au/clinimix-chrome-plated-brass-wall-mounted-thermost~661
Flowmatic Concealed Sensor Ass w/ Stainless Steel Face Plate & CliniLever Fixed Wall Outlet 225
Product Code : TZ-FLOWTAPC225
https://www.galvinengineering.com.au/flowmatic-concealed-sensor-ass-w-stainless-steel-f
Healthcare Hand Shower Kit with 900x32 Stainless Steel Hygienic Grab Rail
Product Code : 41999
https://www.galvinengineering.com.au/healthcare-hand-shower-kit-w-900x32-stainless-stee
Stainless Steel Slophopper Hose/Spring Assembly w/ Heavy Duty Hand Trigger Spray
Product Code : 37408
https://www.galvinengineering.com.au/stainless-steel-slophopper-hose-spring-assembly-w
CliniLever Chrome Plated Brass Hospital Wall Mixing Set Type 56 Fixed 150 J/V
Product Code : TC56FJ1C
https://www.galvinengineering.com.au/clinilever-chrome-plated-brass-hospital-wall-mixin~546
CliniLever Chrome Plated Brass Hospital Single Lever Sink Mixer 250 Reach
Product Code : TM-SNKCP
https://www.galvinengineering.com.au/clinilever-chrome-plated-brass-hospital-single-lev~605