Acute Services Building (ASB) – Christchurch Hospital redevelopment project
Author: Nick Siddle Date Posted:30 November 2017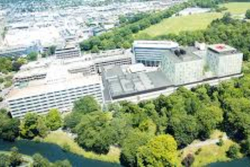 As of March 2016, NZ Health Minister, Dr. Jonathan Coleman commented, "When it opens in 2018, the Acute Services Building will have 12 new operating theatres and procedure rooms, an expanded intensive care unit, state-of-the-art radiology, acute medical assessment, expanded emergency department, and a rooftop helipad.
"Its new theatres will allow Canterbury DHB to perform an additional 6,000 surgeries a year, and inpatient ward blocks over six floors will provide 413 beds.
The Canterbury DHB brief required Sensor Tapware technology to assist care staff in reducing transmission of HAI and work to improve Hand Washing compliance. The Conti+ range by Galvin Specialised, of Sensor Tapware was the preferred solution for this important Healthcare campus.
Chosen for its quality, aesthetics and flexibility, the Conti+ range offers proven, reliable performance in demanding Healthcare environments.
The inclusion of smart sensor technology means reliable tap activation, reduced costs related to wasted water and hot water generation, flexible, easy installation and long warranty means long term savings for the CDHB and the great Canterbury District community.
The Conti+ range of wall mount Lino taps offers smart proximity sensor technology, temperature mixing and Bi-Stable valving. The Lino range offers designers a new standard in functionality and design. Various spout lengths mean compatibility with all Vitreous and Stainless Steel basins used in Healthcare environments. Along with Watermark and WELS certification, the Conti+ range of sensor tapware is the best choice for your next commercial project.
For more information on the installed tapware,
http://www.galvinspecialised.com.au/galvin-lino-wv20-concealed-infrared-wall-mounted-b~755
and for specification assistance, contact your local Galvin Specialised Sales consultant today.